Contact lenses are devices made of medical grade plastic materials used mainly for correction of refractive error. They offer a more active spectacle free life, greater cosmestic acceptability, better & clearer images, lack of misting and a wider field of view than spectacles.

The contact lens clinic at Patiala Eye Hospital & Lasik Laser Centre provides contact lens trial, fitting and dispensing for cases ranging from simple refractive errors to complex corneal surfaces such as post-transplant eyes and patients with keratoconus.

Low vision evaluation is a process that helps to assess the visual needs of a person with low vision. An ophthalmologist or optometrist who specializes in low vision, performs a comprehensive visual function evaluation using special charts. After thorough examination, the ophthalmologist gives advice on the following: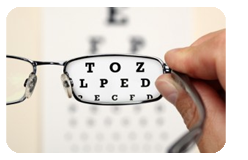 1. Optimum use of vision
2. The low vision aids or devices required and their usage.
3. The best adaptation to home, school, the workplace and nearby surroundings.
Common Questions about YAG Laser Procedure
WHAT IS A CONTACT LENS?
Contact lens is a thin transparent lens placed directly on the transparent part of the eye called cornea.

WHAT ARE THE USES OF CONTACT LENSES?
1. To correct Myopia, Hypermetropia, Astigmatism or Presbyopia in individuals who want to avoid glasses or to be free from glasses.

2. To change the colour of the eye or to give a normal appearance to the eye in individuals having birth problems in the eye or to hide unsightly scars in the eye by using cosmetic contact lenses.

3. Therapeutic contact lenses are prescribed in patients with an aim to reduce pain and discomfort or to promote healing in certain eye conditions.

WHAT ARE THE BENEFITS OF CONTACT LENSES?
1. Contact lenses provide better field of vision.
2. They do not collect moisture or sweat as in glasses.
3. Suitable for sport and outdoor activities.
4. Cosmetically preferred.

WHAT ARE THE DIFFICULTIES ARISING DUE TO CONTACT LENS USAGE?
1. It is very important to clean and change rinsing solution of contact lens everyday.
2. Once a soft contact lens dries out completely it has to be replaced.
3. One cannot sleep with the contact lens on.
4. While driving a two wheeler it is advisable to use protective glasses when on contact lenses.
5. Improper use of contact lenses can lead to serious eye infections.
6. Over a period of contact lens use eyelids may droop down a bit.
7. Eyes are prone for allergies.

For individuals who experience side effects of contact lenses and want permanent removal of glasses or contact lenses, laser vision correction or I-LASIK is one good option.

Thind Eye Hospital is regularly catering to individuals opting for all types of contact lenses such as soft contact lenses, rigid gas permeable lenses, toric lenses, daily or monthly disposable lenses, rose-k lenses etc.