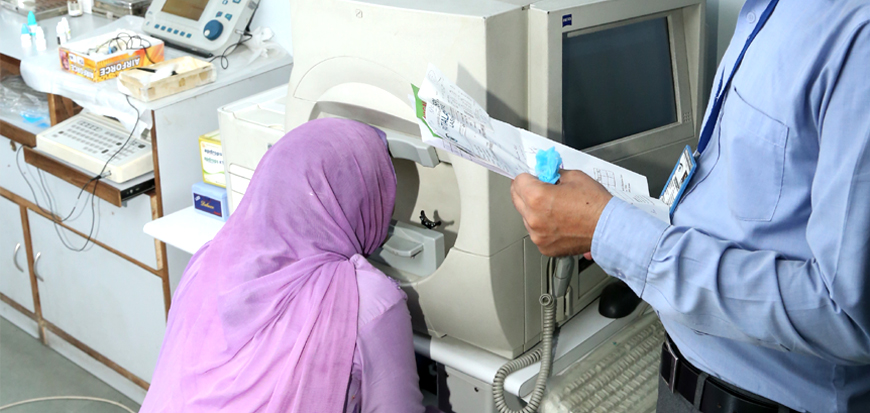 Visual Field Testing & Perimetry
During a routine comprehensive eye exam, your optometrist or ophthalmologist may want to perform visual field testing to assess the full horizontal and vertical range and sensitivity of your vision. Visual field tests are used to detect blind spots (scotomas), which could be a sign of eye diseases. The size and shape of a scotoma offer important clues about the presence and severity of diseases of the eye, optic nerve and visual structures in the brain. Many eye and brain disorders can cause peripheral vision loss and other visual field abnormalities.

For example, optic nerve damage caused by glaucoma creates a very specific visual field defect. Other eye problems associated with blind spots and other visual field defects include optic nerve damage (optic neuropathy) from disease or damage to the light-sensitive inner lining of the eye (retina).

Brain abnormalities such as those caused by strokes or tumors can affect the visual field. In fact, the location of the stroke or tumor in the brain can frequently be determined by the size, shape and site of the visual field defect.

If an eye disease is suspected, you may need to undergo more comprehensive, formal types of visual field testing to evaluate the quality of your central and peripheral vision. A variety of sensitive tests for measuring visual field loss exist, including Automated Perimetry.
Automated Perimetry uses a mobile stimulus moved by a perimetry machine. The patient indicates whether he sees the light by pushing a button. The use of a white background and lights of incremental brightness is called "white-on-white" perimetry. This type of perimetry is the most commonly used in clinical practice, and in research trials where loss of visual field must be measured. However, the sensitivity of white-on-white perimetry is low, and the variability is relatively high; as many as 25-50 percent of the photoreceptor cells may be lost before changes in visual field acuity are detected. This method is commonly used for early detection of blind spots. The patient sits in front of an (artificial) small concave dome in a small machine with a target in the center.

The chin rests on the machine and the eye that is not being tested is covered. A button is given to the patient to be used during the exam. The patient is set in front of the dome and asked to focus on the target at the center. A computer then shines lights on the inside dome and the patient clicks the button whenever a light is seen. The computer then automatically maps and calculates the patient's visual field. If you can't see the lights in certain parts of your field of view, then you may have a blind spot indicating vision loss.